More Information about DfontSplitter for Mac
You can use DfontSplitter for OS X 10.6 Snow Leopard and later to convert OS X's dfont format files, Font Suitcase files and TrueType Collection (TTC) files into TrueType fonts (.ttf) that can be more easily used across platforms. DfontSplitter is free of charge, and open source under the GNU General Public License v3.
DfontSplitter has been tested in the Softpedia labs using several industry-leading security solutions and found to be completely clean of adware/spyware components.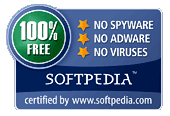 Help and Support
For the most common issues, please see the DfontSplitter for Mac pages on DevDocs.
Please note: If you move the resulting TTF files over to Windows, it may report them as 'corrupt'. Please try this solution with FontForge which should resolve the problem.
If you need further assistance, please don't hesitate to get in contact.
Source Code
DfontSplitter 0.4.1 for Mac is written in Objective-C/Cocoa and is simply a graphical wrapper around the command line programs Fondu (which is written in C) and ttf2ttc (which are Perl scripts).
The source code to DfontSplitter is available under the GNU General Public License v3. The source code to Fondu is available under a BSD-style licence (see the Licence file in the .dmg, or the licence on the Fondu site for full details).
Downloads
Tiger users
Mac OS X 10.4 Tiger users cannot use the latest version of DfontSplitter, but can use the older AppleScript-based version.
The DfontSplitter icon is from the Oxygen Icon set and is licensed under the Creative Commons BY-SA 3.0 Unported licence.