DfontSplitter
Convert Macintosh .dfont files into TTF format
Is this useful to you?
I am happy to provide this software free of charge, and as free software in terms of its GPL licensing.
This page is intentionally free of advertising, to make your download experience clear, and free of advertising for potentially unwanted software.
Your financial support for the time and effort involved in creating the software, as well as the continued running of this site would be most appreciated, using the donation buttons underneath Windows and Mac.
Progress towards recouping costs of Mac Developer Program subscription (2019):
The graph doesn't update in real time, sorry!
Windows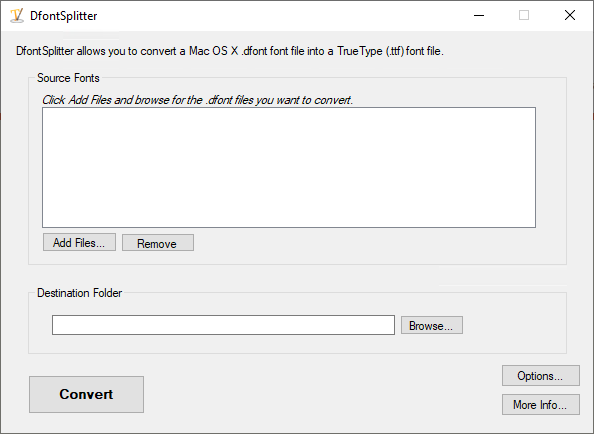 for Windows 7 SP1 and later
(requires .NET 4.7.2 installed on Windows 10 1703 and earlier)
The "T with chisel" DfontSplitter icon is licensed under the GNU Free Documentation License, Version 1.2 or any later version published by the Free Software Foundation; with no Invariant Sections, no Front-Cover Texts, and no Back-Cover Texts. The icon includes a modified version of "Chisel wood 24mm" by Isabelle Grosjean, which is also licensed as such.
The old "T with pencil" DfontSplitter icon is from the Oxygen Icon set and is licensed under the Creative Commons BY-SA 3.0 Unported licence. Please see the More Information pages for Windows and Mac for full licensing information.
Apple, the Apple logo and Mac are trademarks of Apple Inc., registered in the U.S. and other countries and regions. App Store is a service mark of Apple Inc.