Portfolio

For Mac Eyes Only
From January 2011, I have been a Staff Writer for For Mac Eyes Only, focusing on articles, opinion and how-to posts all about the Macintosh.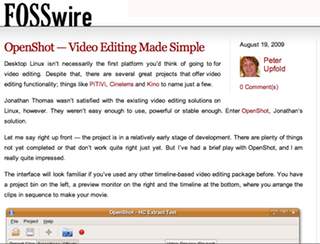 FOSSwire
From 2006–2009, I have been editor of FOSSwire, writing reviews, tutorials, opinion pieces and other articles on free and open source software, with a focus on Linux. FOSSwire regularly attracts over 30,000 visitors a month and has previously been featured on Lifehacker as well as Alltop.

The Stealth Mac Podcast
Associate Producer for The Stealth Mac Podcast. I produce Macintosh tutorial screencasts, including a series on learning how to use the Terminal within Mac OS X and I participate in roundtable discussion podcasts, talking about all things Apple.
Tutorials
There are many tutorials on this site, both in text form and screencasts, on various technology topics — from Beginner's Linux and AJAX development in PHP, to how to set up public key authentication for SSH on the Mac.