I want to discuss something that has been on my mind for quite some time. I haven't really discussed this before, at all, on the internet or maybe even in real life.
The internet has allowed us to communicate in brand new ways using innovative new media. It seems that in a very short time, the number of ways that I can choose to communicate with someone has shot up exponentially.
One of these new-fangled ways of communicating is Twitter (for the uninitiated, go read Wikipedia).
I find Twitter to be a very useful social tool for communication, conversation and keeping up with people. In contrast, I find traditional instant messaging (IM, such as AIM, MSN, XMPP/Jabber and the like) burdensome and difficult to use on a consistent basis.
My dislike of the traditional IM most likely stems from my introverted personality. Hopefully in this post I will explain exactly why and why Twitter is better.
Note that this is purely my opinion for what works for me. Everyone is different, which means that what might be true for me may not be for someone else, even with a similar personality. These are my personal views on Twitter vs IM.
IM can be Invasive
Instant Contact
At the core of instant messaging is an expectation of 'instant'-ness. Hey, it's in the acronym. If someone sends you an instant message and you are listed as online, they expect you to reply in a timely manner.
At times, I find this expectation of absolutely instant contact very difficult. The potential for being interrupted and having social demands put on you whenever you are online quickly leads me to get offline as soon as possible and delay going online as long as possible.
Presence

In addition, the concept of having a presence – i.e. 'available', 'away', etc. is also something that doesn't sit well with the way I work. I don't always want to broadcast my status and I'm not usually going to want to be interrupted and have to handle a conversation instantly at any time.
That doesn't mean that IM is never useful, though. There are many occasions where instant communication is extremely helpful, even necessary. I will use it while that is true, but when that occasion comes to an end, I will want to log back off again.
So, IM presents a problem because:
The expectation of a live, instant conversation can be intrusive and burdensome.
I don't always want to broadcast my presence – and I'm probably never 'available' in the same sense that other people might be.
How Does Twitter Solve Some of these Problems?
Trivial Communication

At first glance, it might seem that Twitter is very similar to IM within the context of these things.
It does have an element of instant or near instant communication, and answering that question "What are you doing?" is precisely presence – exactly what I just said IM was difficult because of.
The way I use Twitter, however, it manages to dodge some of these problems.
The key thing that makes Twitter different is that it is a sort of 'trivial communication'. That doesn't mean it's full of useless information, it just means that it doesn't matter if you don't use it for some time.
Twitter is a broadcast medium, where you are certainly not expected to reply to every incoming message. The beauty of Twitter is the ability to dip in and out of the information stream as and when you like. If you're not in the mood – you can ignore it for a while, without fear of terrible social ramifications.
No 'Live' Presence
There is no concept of 'live' presence either, as there is with IM. Again, if I want to let my followers know what I'm doing, I can contribute to it by publishing a tweet. But if I don't post anything for several hours, or even days, it doesn't matter. It's no big deal.
Twitter, therefore, dodges some of the IM issues because:
If you're not in the mood for using it (reading/writing), you can ignore it without great consequence.
No concept of a 'live' presence of available, away, etc. You don't have to tell Twitter that you're reading it, or that you are able to respond right away if you don't want to.
Twitter is Not Perfect
Messages Directed to You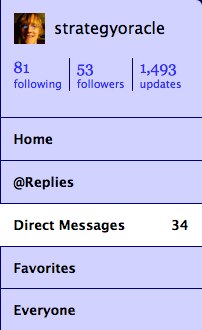 Twitter, of course, isn't a replacement for IM and certainly isn't a silver bullet solution if you share my difficulties using IM regularly. It even introduces some unique challenges.
You do from time to time, get messages directed to you, either via the @Replies system or via Direct Message. Unlike IM, though, you are not necessarily expected to reply in real time. Because there is no live presence system, you can read a message but not choose to respond to it for a while, giving you time to process it and think about your reply.
Broadcasting to the World (and Avoiding It)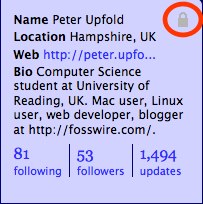 As I've said before, Twitter is broadcast. By default, any tweet you publish is broadcast to a potentially limitless audience – the whole internet.
It is possible to limit the distribution of your updates to just people you trust, however, which is what I do. Setting your account to 'Protected' means that you can be reasonably confident that you are not giving your life updates to people who you wouldn't necessarily want to read them.
Again, this helps me feel free enough to use Twitter. The less concerned I am with what I'm saying and who might be reading it, the easier it becomes to say it.
Turning off the worldwide broadcast does block some of what makes Twitter really useful. It is more difficult to expand the people you communicate with (if you do want to do that) if they are unable to first read your updates and decide if they like them.
It also makes sharing stuff globally and contributing to wider discussions on common topics difficult, unless you can get someone who isn't protected to retweet you.
Overall, though, I find keeping my account Protected means I worry less about what I'm saying to whom and can just get on with using the service. And it does retain is utility within your circle of followers.
In summary, Twitter isn't perfect because:
People can still talk to you directly and you will be expected to reply. However, your reply doesn't have to happen instantly.
Protecting your account limits some of the things that Twitter is useful for, such as participating in a wider conversation on a common topic.
To Conclude
For the reasons I've discussed, I find Twitter to be an easy, quick, unburdensome way of communicating in the digital world. Plus there are many unique features of Twitter which make it stand out from other ways of communication.
Also, I just want to reiterate that this is just my opinion and my experience and what works for me. For many people, Twitter is just too noisy, too quiet or just doesn't serve them a purpose.
With all of these new social tools, the key is finding the way in which they work best for you and sticking to that. Even if you use them in a rather unconventional way, ultimately these tools should serve us and enrich our lives. As soon as something isn't doing that, it's time to reassess the way you are using it.
Oh, and if you aren't already, you can request the ability to follow me on Twitter, I'm @strategyoracle. Beware, though, I tend to take a very long time to decide whether to allow or deny follower requests. 😉
I also use Twitter in a more limited sense with FOSSwire. You can get tweet notifications of new posts by following @FOSSwire.