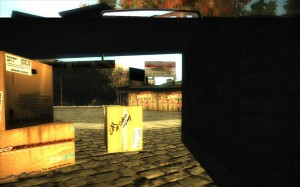 I love tiny little details, even if they're not ever intended to be seen by the public.
The screenshot above is one I took in Need for Speed: Most Wanted (while looking backwards). What I find interesting in this is the detail written on the cardboard box texture on the left.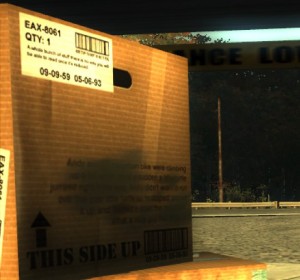 The sticker in the top left reads:
"A whole bunch of stuff, there is no way you'll be able to read this once it's reduced."
Well apparently it wasn't reduced enough. 😉
Even more interesting is what is 'printed' and obscured below. It's a story:
"Andy [obscured] mountain bike were climbing up a hill when all of a sudden a little turtle jumped right in his way. Andy didn't want to run over the poor turtle so he stopped, picked it up and [obscured] it down the mountain. What a nice guy that Andy is."
Programmer's sense of humour? Easter egg based on a true story?
What I love about these little details, the tiny easter eggs that no-one is really meant to look at, is that it shows the humanity and humour behind a massive project like a modern video game.