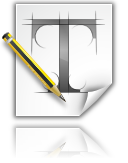 "What? I thought you updated this yesterday?"
Well, I did. 😛
Hot on the heels of yesterday's auto-update-capable release, is DfontSplitter for Windows 0.3.1. This version includes a single fix, introducing a new method of avoiding the dreaded 'corrupt font file' error. For some unknown reason, sometimes Windows simply will refuse to work with the original fondu output file, but if simply DfontSplitter makes a duplicate of the file, it will happily see it as a TrueType font! It is very odd behaviour, and this fix only works in some cases, but it should reduce the incidence of 'corrupt font files' being output from DfontSplitter for Windows. This means users will less frequently have to go through a secondary hoop to get Windows to play nicely with DfontSplitter's outputs.
Here are the official release notes:
New Features and Bugfixes
Uses a new method to decrease the incidence of 'invalid font file' errors on Windows. More fonts should now convert correctly without requiring further intervention.
Known Issues
Some fonts still require further conversion after DfontSplitter has created the TrueType font file. FontForge is one option for this.
As always, you can always get the latest and greatest version of DfontSplitter by downloading it from the the DfontSplitter project page.