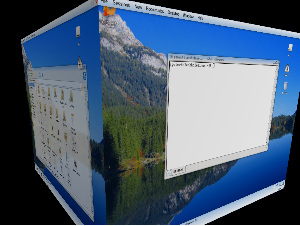 Finally cracked this age-old problem I've been having. I now have the Nvidia 3D drivers installed (working at a fairly decent resolution and refresh rate)! Doesn't sound like much, well this problem has been bugging me for ever now (almost since I started using Linux). With the 3D driver installed, I can finally enjoy the wonder that is Xgl.
So here's how I managed it…
So the problem (as ever) started with my unusual monitor (how I fixed it in Windows). With the NVIDIA 3D driver installed, it would never run at a high resolution (above 1024×768) and never do anything above 60Hz. After some frantic searching on the nvNews Linux Forum, I found out some commands that might allow me to override resolution. I can't quite remember what made it work, but I will post my xorg.conf configuration file if it anyone wants it.
Now to install Xgl. The friendly people at Linux-noob.com directed me to this site with instructions and a yum repository to easily install Xgl and compiz. This was easily done, but I did have to tweak the /etc/yum.repos.d/fedora-xgl.repo file to gpgcheck = 0 to prevent a strange error.
After following the instructions, Xgl worked perfectly in Gnome. Good, but I personally prefer KDE. It was fairly easy to set up, I just added a KDE autostart file which started compiz –replace gconf & and gnome-window-decorator &.
Now it works! There are a few teething troubles, however (Xgl is fairly Alpha-ish), namely strange random crashes of the desktop, forcing me to login again. However, I'm sure I can work out how to fix it…
UPDATE: Sorry, Xgl people, it wasn't crashes, it was me pressing Shift+Backspace, which seems to be a new keyboard shortcut to kill X…
ANOTHER UPDATE: KDE users, here's a pre-prepared script for you. Open a text editor and paste in this:
#!/bin/sh
compiz --replace gconf &
sleep 1s
gnome-window-decorator &
xmodmap -e "keycode 22 = BackSpace"
Save that in ~/.kde/Autostart. Now you need to go into ~/.kde/Autostart, right-click your newly saved script, choose Properties. Go to the Permissions tab and tick is executable. OK that, log out then in again and you should have Compiz running! This script also should prevent Xgl Shift-Backspace syndrome. You can download the script direct here.
UPDATE #3: KDE users – screensaver broken? There's a sort of fix here.