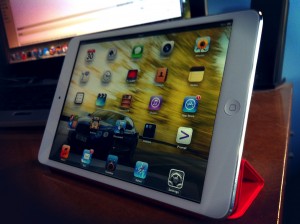 Ever since its initial release, the absence of an iPad, or indeed any kind of tablet device, from my computing devices was notable. After all, this was the 'future' — and I was just getting left behind, right?
Truthfully, the full-size iPad always felt to me to be difficult to justify. While significantly more portable than any laptop, the size difference between it and its clamshelled cousins did not feel big enough. I'd just want to reach for the laptop, right?
It seemed that all that changed with the iPad mini. I hadn't anticipated it at all, but 'merely' making the device smaller suddenly made me see where it fits for me.
So, what does it do better than any other device? Why is it now justified?
It is hands down, the best (type of) device for 'casual' browsing. Whether for checking something quickly, or browsing around at the end of the day, it makes web browsing informal and comfortable in a way that sitting in front of a desktop or laptop just does not. Being physically smaller than a laptop makes it easier to do this.
It is that much easier to take with you. Yet unlike a phone, which will always have limited screen size (or else not fit into a pocket), it is big enough for 'full' websites, richer app experiences or even in my case, full-screen SSH connections!
Battery life and instant-on. It makes an immeasurable difference that it can just be left on, and is always ready to use. No need for chargers, mice and various other accessories.
Something about this smaller form factor suddenly made it click for me — perhaps even just made it feel less threatening to the role of my traditional computers! I am very happy indeed with my iPad mini. I had concerns about lack of a retina/HiDPI display, but I have found that in real-world usage, it is not a deal breaker. (My personal opinion is that the physically larger the device gets, the less that HiDPI actually matters.)
Consumer computing is changing. Whether 'traditional' PC people like me are ready or not.