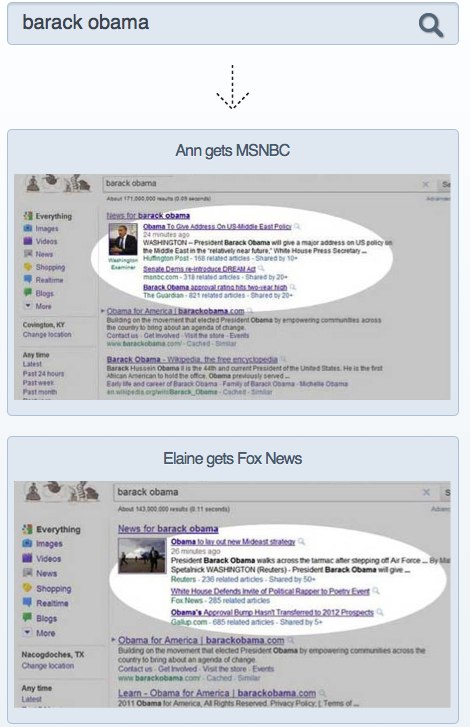 I can't unfortunately remember what led me to this page (I think a retweet from someone), but I found myself perusing DuckDuckGo's marketing site "Escape your Search Engine's Filter Bubble" recently.
(I don't have a relationship or particularly strong opinion about DuckDuckGo at this time, by the way, so this is no marketing astroturf.)
It shows you just how search engines deliver different results for the same query, based on the user's habits in the past.
The profile the search engine has built up on the user through their cookies doesn't just inform them about relevant advertising, it literally changes the search results.
This troubles me greatly.
Now, I don't believe I am experiencing this when I search. I am borderline obsessed with clearing cookies and other browsing data to 'reset' my browser to the same state after each session. Assuming mainstream search engines aren't using technology like Evercookie, then I get a generic set of results across different browsing sessions.
Most people don't do that, which means that most people are becoming increasingly unlikely to come across viewpoints that differ from their own on the web. They have a technologically induced confirmation bias, where, unless they click through a number of pages of search results, they will rarely hear people who might (respectfully, thoughtfully) disagree with them.
Confirmation bias… is a tendency of people to favour information that confirms their beliefs or hypotheses. People display this bias when they gather or remember information selectively, or when they interpret it in a biased way.
I am, frankly, frightened at the idea of people never being exposed to a diversity and plurality of opinions. I am frightened of how easy it could be to not develop and nurture empathy. The consequences of that could very well be more profound than we might realise on the surface.
As well as the societal implications, it doesn't seem the right decision to me either in terms of the technical role a search engine should play. What I previously liked about the 'old days' of Google Search was their strong commitment to put the most relevant result first. I'm not sure, though, that delivering the most personally relevant result is the same as delivering the most relevant result for the query.
So how do we address this? Well, I think that media literacy in general is something we need to make a priority. Trying to change the way the search engines work when everything 'targeted' is such big business is unlikely to be successful.
At the very least, we need to get the message out to people that this is happening — privacy might not be the only reason you might want to clear your cookies.