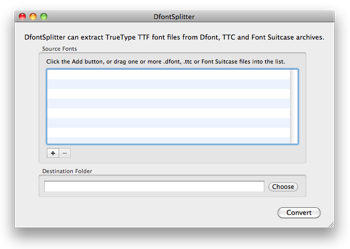 I've been busy beavering away in Xcode and I am now proud to release version 0.3 of DfontSplitter for Mac.
So, here are the release notes:
New Features and Bugfixes
Now supports the splitting and extracting of TrueType Collection (TTC) files in addition to traditional Mac Datafork (dfont) files.
The conversion of a .dfont will no longer fail if there is already a TTF of the same name in the same directory; it will now overwrite the existing file.
Users of Snow Leopard on Intel Core 2 and Xeon Macs will now be running the DfontSplitter application in 64-bit mode.
Improved error message text.
Known Issues
Converting TTC files on Mac OS X Leopard (10.5) does sometimes run into problems, where the TTC splitting script can't open the TTC file. The reason for this is currently unclear.
Moving TTF files that have been extracted from a .dfont over to Windows — please see this workaround.
As always, go across to the DfontSplitter project page to download the new release.
If you're already using DfontSplitter for Mac, simply go to DfontSplitter > Check for Updates within the application to upgrade to the new release.