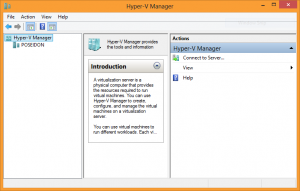 Microsoft's Hyper-V is a really cool virtualisation technology I have been having fun exploring. You cannot run a Hyper-V Server on a Windows 7 host, however, so in order to run it, I installed Windows 7 and Windows Server 2008 R2 side-by-side, and used it in the latter.
All that has changed in the era of Windows 8, however, and you can run a Hyper-V Server on the client version of Windows 8, if it is Windows 8 Pro. Hooray!
So, to cut a long story short, post-upgrade, I felt I didn't really need my separate Windows Server 2008 R2 partition for Hyper-V, so I deleted it and expanded the Windows 8 partition to fill the space. Only to find that Windows now wouldn't boot. Oops.
I originally installed Windows 7 first, followed by Windows Server 2008 R2, following best practice to install newer operating systems after earlier ones. What had happened now, though, was that I had just wiped out the bootloader that was sitting happily on the Windows Server 2008 R2 partition.