I have released a new update to DfontSplitter for Mac. Here are the release notes for this version:
New Features and Bugfixes
The Font Suitcase format is now supported. TrueType font data inside a FFIL Font Suitcase can now be extracted with DfontSplitter.
Known Issues
Converting TTC files on Mac OS X Leopard (10.5) does sometimes run into problems, where the TTC splitting script can't open the TTC file. The reason for this is currently unclear.
Moving TTF files that have been extracted from a .dfont over to Windows — please see this workaround.
Some Font Suitcase files may not contain TTF data that can be extracted.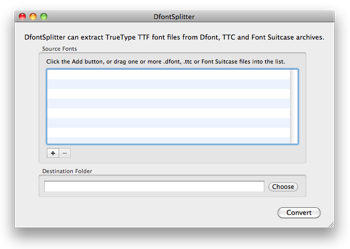 As always, go across to the DfontSplitter project page to download the new release.
If you're already using DfontSplitter for Mac, simply go to DfontSplitter > Check for Updates within the application to upgrade to the new release.