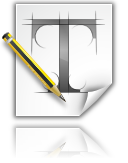 I have just released a new version of DfontSplitter for Windows, version 0.3. The main change here is a brand new automatic update notification system. Like the Mac version, which uses the excellent Sparkle Framework, users of DfontSplitter for Windows can now keep the application up-to-date without having to manually check the website. This makes my development of the software easier, as I can release smaller feature releases more frequently, rather than large releases that must have a longer lifespan.
Unfortunately, because the automatic update feature is new, previous users of DfontSplitter 0.2 are not going to be notified automatically about this new release. 🙁
If you know any other users of DfontSplitter for Windows, please let them know this update is available so they might have the opportunity to keep up-to-date with this new feature too.
Here are the official release notes for this version:
New Features and Bugfixes
New automatic update facility, similar to that of DfontSplitter for Mac. Users can now be notified of new releases in the future, which may include new features.
Known Issues
As always, you can always get the latest and greatest version of DfontSplitter by downloading it from the the DfontSplitter project page.